In case you missed it, during the pandemic, SGD made a couple of updates to our Gene Interactions Page for improved clarity. In years past, genetic and physical interaction annotations were combined in one table. Now these annotations are displayed in separate annotation tables: Genetic Interactions, and Physical Interactions. The menu in the top left corner of the page can be used to view and navigate to each section.
Alleles, SGA Scores, and P-values are included for annotations from the global genetic interactions paper by Costanzo M, et al. 2016, which describes the construction of more than 23 million double mutants, leading to the identification of ~550,000 negative and ~350,000 positive genetic interactions.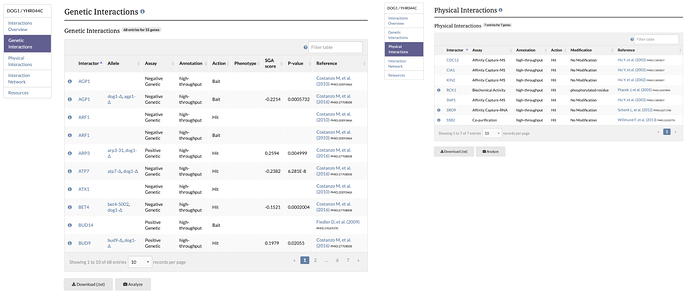 Please be sure to watch SGD's Interactions Page Updates tutorial video for a quick walk-through: https://youtu.be/QYBaZO-N5mI
If you have any questions or feedback about the updates to the SGD Interactions Pages, please do not hesitate to contact us!